Day 1
So Travis and I finally get to take a vacation that does not involve family. Our first one in five years. The first part of this trip involved a six and a half hour drive. This was Travis's first experience with toll roads. He was ranting about how many tolls we had to pay in Illinois. First to get on and then five more before we got off the toll road (totaling $10.90). Not to mention the rant about going between 45 and 55 on a road that we had to pay to drive on. Then when the road is reduced to two lanes, the speed limit jumps up to 65. Travis said that he loves the Blackhawks but hates Illinois. I may have annoyed him with my three pit stops too.
I don't know who was in this room last but 60 is cold.
For our first night we didn't want to do much so we went to dinner before a trip to Walgreens. Crabby's was across the street and lots of advertising. Plus Travis wanted crab legs. It was definitely a tourist place. Bad food and really high prices. Never again. I did try crab legs for the first time. Not bad. I will probably never eat more then a few bites though. After a trip to Walgreens we went back to the hotel and just relaxed.
Our room, really this and a bathroom were just about it.


Day 2
After listening to a little squabble outside our door (it sounded like security got involved), we slept well for being in a smaller bed then we are used to. Then it was up early for a time share presentation. We got several different free tickets to local attractions. So we decided to use the tickets quick.
First up, a tour of the lake on a double decker boat. The free ticket was only for the upper dells and the ticket lady wouldn't let us upgrade to the full dells. We decided to just stick with the upper dells and do the lower dells later this week if we had time. Just as well, the boat ride was two hours long.



The jumping dog.
The ride took us up the river showing us several rock formations. Some of them were a little bit of a stretch, but it was all really pretty. We made two stops along the river. The first stop was Witch's Gulch. Several cool little features. At one part of the trail, which was a walk through the canyon between the sandstone, it got incredibly narrow. Thank goodness we both fit. At the end of the walk there was a concession stand and gift shop. The second stop was to see the famous standing rock and jumping dog. The rock is where H.H. Bennett took his famous picture of his son jumping between the rocks. It was the first time stop action photography ever used. That was pretty cool. There was another concession stand and gift shop. Then back to the dock.
We had three hours to kill before the Tommy Bartlett show started so we went to have dinner. We were a little apprehensive about this since our previous experience was so bad. Travis had seen a billboard with a giant hamburger on it so we followed the signs to Ravina Bar and Grill. This was good and overlooking the river. Yummy food with reasonable prices. A hit! If you ever come to the Dells, this is a place for your list.
Since there was still time to kill we decided to go into Mt. Olympus and have a GoKart race. We picked the one with the big Trojan horse, which meant lots of tight circles up and down. Travis was so sure he was going to beat me that he let me in the first car. Travis neglected two things. First, the fact that "I feel a need for speed" as my dad would say. Yes, I said that as the attendant pulled the cone away and told me to go. Second, the fact that I weigh at least seventy pounds less then Travis. I left the poor boy in the dust. It was so satisfying.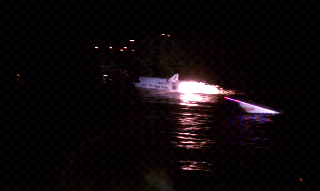 One of the boats looked like a space shuttle.
Last up for the day was the Tommy Bartlett show. The first half was a water show. It included the three story human pyramid. It also had a human kite. That was pretty cool. He was 650 ft in the air and then did a little light show. The second half involved other performers. Entertaining. The man on the double wheel almost fell. I think my favorite was the second to last act. The man basically put things on this head from his foot, but he has funny. His tag line was "You like, I do it again." The last act was a family and the girl was flipping into different positions while her dad held her with his feet. It was pretty cool. By the time we got back to the hotel we were ready for bed.
Day 3
We started the day with the water park. Now everyone that knows me knows that I am not a water person. Travis isn't a huge water person either but we figured if we got up and go we could hit the rides a few times before it got busy. So up and over there a little after open, which was 10am. We hit up most of the rides in the back half of the park. Not too bad. I liked the double tubes so that Travis and I could ride together. We headed to the front of the park but the lines were getting to long for the two of us. So we left after forty-five minutes.
After a quick lunch at the hotel bar and grill, we headed over to Big Foot Zipline. Six intense zip lines. The longest was 1,397ft and the top speed was 50mph according to them. The guide said some of us were probably going faster. Not me, I just didn't weigh enough to really get going. They taught us a few tricks. Travis was going up-side down a lot. We were both spinning around. I let one of the guides spin me up and then throw me off the platform. That was a lot of fun. The last line was a double line so Travis and I got to race. This time the weight difference was in his favor and he won, by a lot. We got pictures and video from Travis' helmet cam. So far the zip lines have been my favorite thing. I was surprised that I didn't scream at all since I usually do when doing this stuff. I definitely did on the super swing at King's Island. If you go to the Dells, you have to do the zip line.
I was spinning going down this one.
Travis was showing off by going upside down.
After the zip line we went back to the hotel for a nap. It was great until the fire alarm went off. The people across the hall are very loud and annoying. I am guessing one of their kids pulled it. We grabbed a bite at Denny's before heading back to the room for the night. We were both just too tired to do anything but watch some T.V. in the room. Not too bad of a day really.
Day 4
Poseidon GoKart
We started off our day at Mt. Olympus. We went straight over to one of the go carts. We choose Poseidon since it went under water. Really it was just a little tunnel under the pond. Long wait for a little ride. I won again, but I should mention Travis started 5 cars behind me. I even had to pass two other girls to come in first. Then we tried a roller coaster. Hades was closest so we got in line. It went through an underground tunnel as well. Unfortunately we discovered that we are no longer kids. The wooden roller coaster just killed us both. We got off and had huge headaches. We felt so bad we went straight back to the room, took an Aleve and a nap.
After a few hours of recovery, we decided food and putt-putt was in order. Unfortunately it was raining. We went to Moosejaw Pizza. A great themed restaurant that a local had told us about. It was set up for tourists as well. Lots of animal heads on the walls and antler chandeliers. While they have pizza, they also have a lot of other food choices. Travis and I both opted for personal size pizzas. I went with my normal garbage pizza and Travis tried a taco pizza. It was good, though I felt a little weird ordering milk. I always feel weird ordering milk at restaurants but I needed it. We have only had milk in our cereal all week. No putt-putt due to rain. We caught up on Game of Thrones though.
Day 5
Today the weather forcast said rain all day. So we decided that a movie and shopping at the outlet were in order. We went to see The Dark Knight Rises. I was all excited about movie tickets only being $5. Pretty good movie. After the movie we went to the outlet mall. All I found was a pair of shoes. Everything else wasn't in my size, which is annoying. It was still raining so we went to get some food. We hit up a German place. The food wasn't great. Still raining so we went back to the room for movies and books.


Day 6
Finally on our way home. Had to argue my bill before checking out. We had lots of fun but were ready for home. Quick stop at McDonald's and on the road. Only $7.90 in road tolls this time. We attempted to make a stop in Chicago to see the Blackhawks stadium and their shop. All the parking lots around the United Center were closed and so was the United Center. The shop was on the other side of town so we put it in the GPS. Problem one, every time we went into a tunnel the GPS lost our signal. Problem two, part of the area where the shop was located was blocked because they were filming a movie. Problem three, parking both the lack of and the expense. Chicago ended up being a bust so we just headed home. At least we stopped to get Sonic on our way home. It was good to get home and Snickers was very happy to have us back.